Level
Price
Associate
$55.00 now.
Membership expires on December 31, 2020.
Select
Business
$80.00 now.
Membership expires on December 31, 2020.
Select
Non-Profit
$55.00 now.
Membership expires on December 31, 2020.
Select
Kootenay Lake Ferry Racking
$55.00 now.
Membership expires on December 31, 2020.
Select
MEMBER BENEFITS
Membership in the Kaslo and Area Chamber of Commerce offers a wide range of benefits including:
Tourism-Related Business Tourism Membership with NKLT –
This year the Kaslo and Area Chamber of Commerce has collaborated with Nelson Kootenay Lake Tourism to provide an affordable value added, benefit-based membership
Year runs January 1, to December 31.
Chamber or BDBHA Tourism-related businesses can purchase a NKL Tourism Membership through the Kaslo Chamber for just $15 (regularly $150)
All the benefits remain the same as in previous years with the addition of advertising opportunities in the Travel Book
View the Travel Book Advertising Spec Sheet for prices, sizes and deadlines
The $15 fee is collected by the Chamber on behalf of NKLTourism
Tourism-related businesses and organizations that are not members of a Chamber/Association can purchase a NKL Tourism membership for $150 for businesses or $50 for nonprofit organizations
For more information on the benefits and membership visit their Partner page. https://www.nelsonkootenaylake.com/info/about/partner
How to apply: Simply complete the membership application above or your renewalthat is automatically sent to you and the option to also become a member of NKLT will appear as an additional checkbox.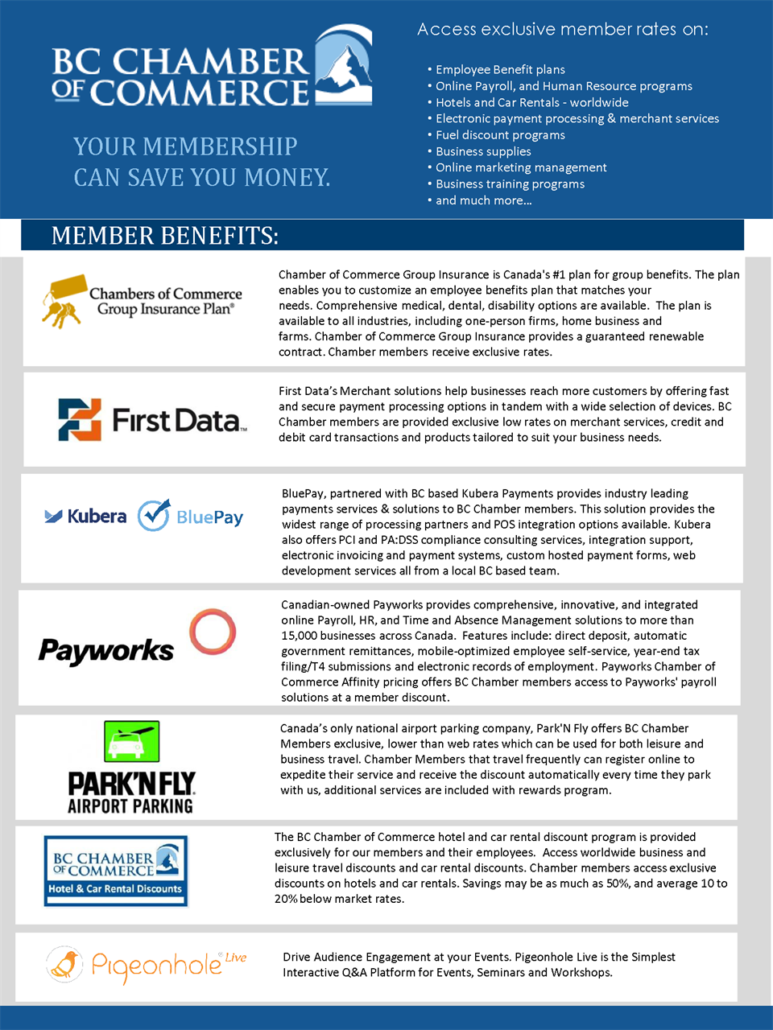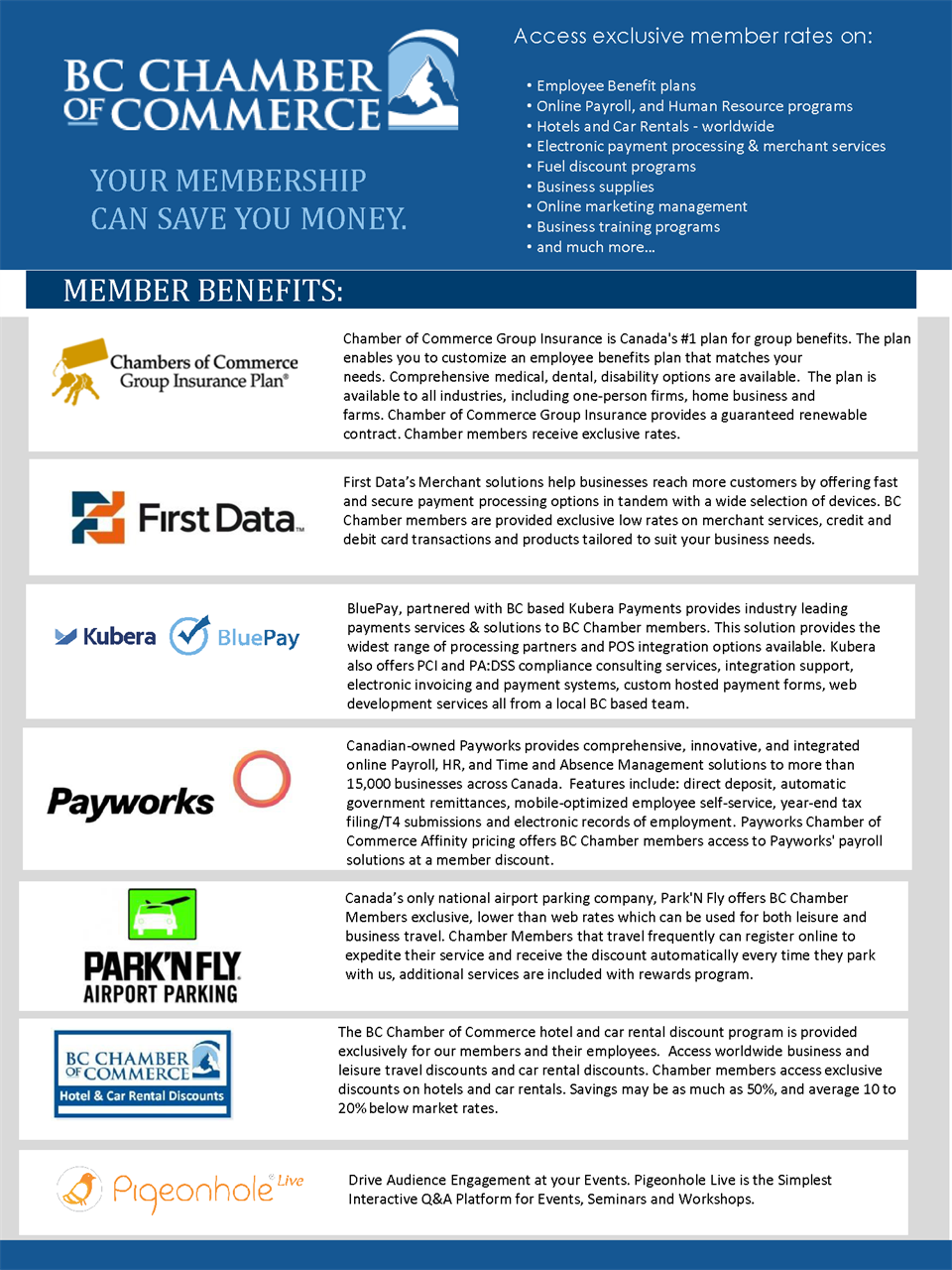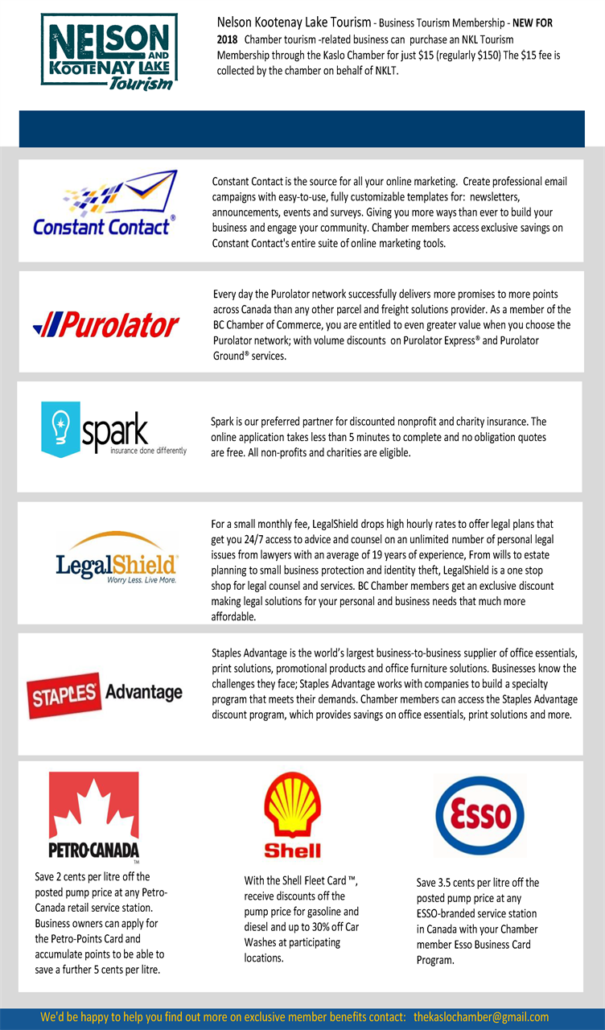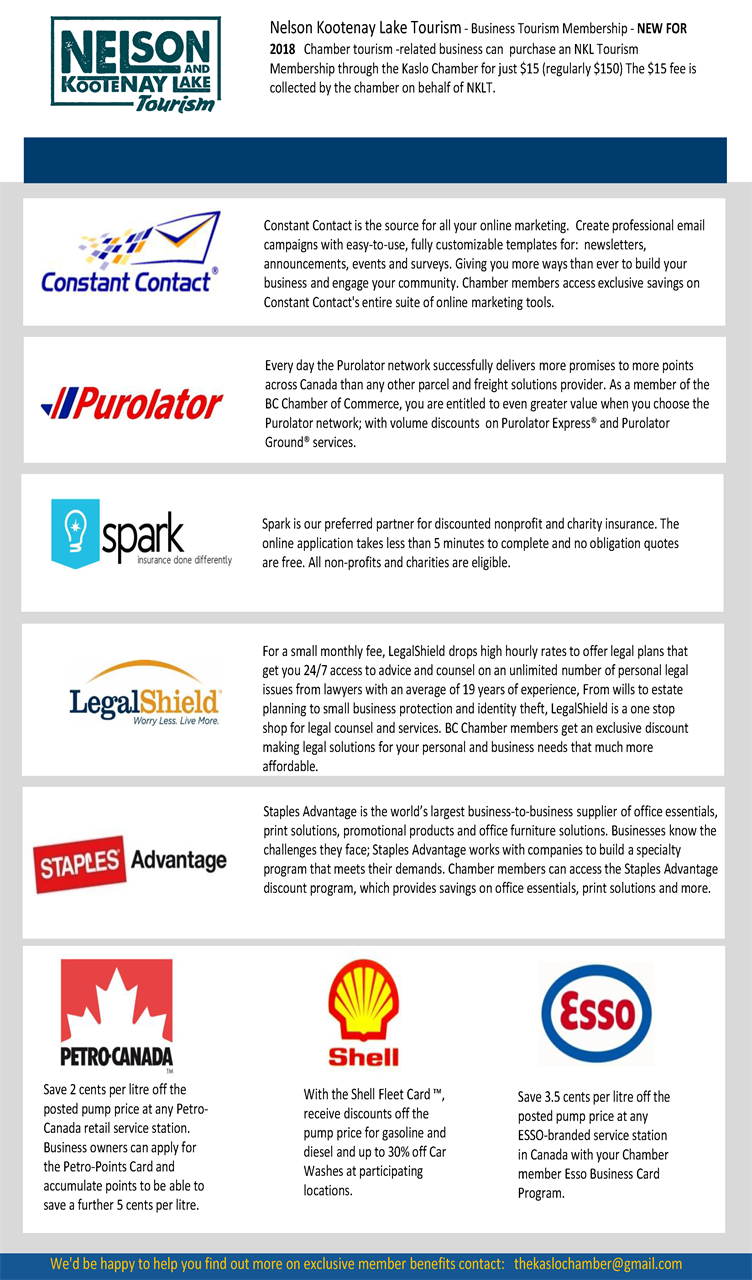 Contact the Kaslo & Area Chamber of Commerce directly for your direct link to all the many member savings. thekaslochamber@gmail.com
Esso Imperial Oil – 2.0 cents/litre discount on fuel apply now
Shell– minimum of 3 cents off per liter with a Chamber Shell Triton card
Payworks, Online Payroll Service – special Chamber package sign up
Chamber of Commerce Group Insurance – extended health & dental plan for Chamber members
CONSTANT CONTACT – Constant Contact is the source for all your online marketing.
Create professional email campaigns with easy to use, fully customizable templates for:
newsletters, announcements, events and surveys. Giving you more ways than ever to build
your business and engage your community. Chamber members access exclusive
savings on Constant Contact's entire suite of online marketing tools. flyer
PUROLATOR – As a member of the BC Chamber of Commerce, you are entitled to even greater value when you choose the Purolator network; with volume discounts on Purolator Express® and Purolator Ground® services. find out more
NEW: PIGEON HOLE Drive Audience Engagement at your Events. Pigeonhole Live is the Simplest
Interactive Q&A Platform for Events, Seminars and Workshops
PARK & FLY Park and fly offers BC Chamber Members exclusive, lower than web rates which can be used for both leisure and business travel. Chamber Members that travel frequently can register online to expedite their service and receive the discount automatically every time they park with us, additional services are included with rewards program. info
Download a Full Listing of Chamber Benefits here